Battery Replacement and Auto Electrical System Repair
---
Let's Get It Started!
If your battery fails, everything else fails along with it. The battery is one of the most important parts of your vehicle. Stay in charge with proper battery maintenance or replacement.
Take our free car battery test - get a complete analysis of the charge capacity and life expectancy of your battery.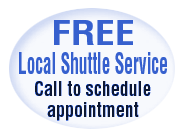 Call (941)-722-4367
Battery & Electrical System Warnings

Your car wont start, or starts slowly
You have to jump start your vehicle
Dashboard warning lights stay on when the engine is running
Some electrical components or accessories aren't functioning
Battery terminals show corrosion
Fuses keep blowing
Electrical System Services

Electrical System Diagnosis & Repair
Car battery replacement and installation
Cleaning battery tray & 
terminal posts
Alternator and starter system analysis