About Us
---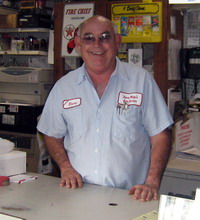 Steve White has been an auto mechanic all of his life. He started his career forty years ago at Conley Buick. After ten years there Steve decided to start his own business in the heart of beautiful Palmetto, Florida. He purchased the station located at the corner of 9th Street and 8th Ave W in 1980, and he's been there ever since.
During that time, Steve has worked tirelessly for the community both through his service station and through various service organizations.
Steve was piviotal in helping create AAA's Tow to Go program. Since it's inception in 1989, nearly 10,000 impaired drivers have used the service, no doubt saving many lives.
Steve has also been voted the Rotarian of the Year and the Elks Club member of the year by those organizations.
Steve doesn't do it alone. Helping him are several well trained and highly qualified service technicians. If there's an affiliation or a rating important to automotive excellence, they have it.
You can't go wrong with Steve's Auto Repair.